Issues and Seasons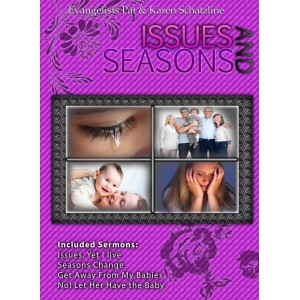 Product Code:
4 Disc
Availability:
In Stock
Price: $35.00
Ex Tax: $35.00
Has life run you down? Are your situations impossible? Join Pastors Pat & Karen Schatzline as they discuss the issues and seasons that we walk through in everyday life. The messages included are designed to bring peace, life, and a new perspective to any situation that seems hopeless. We pray that these messages will ignite a new fire in your life, and will be the timely word that you are looking for.
Series Includes:
- Issues, Yet I Live
- Seasons Change
- Get Away from my Babies
- No! Let Her Have the Baby!
Write a review
Your Name:
Your Review:
Note: HTML is not translated!
Rating:
Bad
Good
Enter the code in the box below: